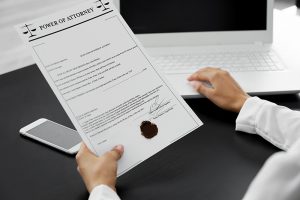 Why Do You Need a Power of Attorney?
The quickest and most straightforward answer is: A Power of Attorney is a legal document in which you give someone you trust (called your "Attorney") the right to make decisions for you if something happens and you are no longer able to look after matters on your own.
In Ontario, there happen to be three kinds of Powers of Attorney.  They include:
A Continuing Power of Attorney for Property (CPOA) covers your financial affairs and allows the person you name to make decisions for you even if you become mentally incapable.
A non-continuing Power of Attorney for Property covers your financial affairs but can't be used if you become mentally incapable. You might give this Power of Attorney, for example, if you need someone to look after your financial transactions while you're away from home for an extended period of time.
A Power of Attorney for Personal Care (POAPC) covers your personal decisions, such as housing and health care.
A Power of Attorney document is a voluntary document. No one can be forced to have one.  These documents are not registered with the government.  They are, however, legal documents made while mentally capable to make choices about your care and property at a time when you, yourself cannot. These documents only apply while you are alive and cease to be effective upon your death.
If you don't have a Power of Attorney, will the government automatically step in if you can't manage your affairs?
No. In these circumstances, a family member has the right to make your health care decisions or apply (to Court) to become your "guardian" of property. Alternatively, someone else – such as a close friend – could apply (again to Court) to make decisions for you in these matters. The government, through the Office of the Public Guardian and Trustee (OPGT), acts only in situations where it is legally required and where no other suitable person is available, able, and willing.
Keep in mind applying for guardianship takes time. Often, decisions around care or paying bills are more of an urgent nature.  This is why we encourage our clients to have Powers of Attorney completed and updated regularly.
To learn more, we have attached a paper provided by the Attorney General that answers many of the questions you might have about these critical documents.
https://www.attorneygeneral.jus.gov.on.ca/english/family/pgt/livingwillqa.pdf
Read more about the Financial Tasks to be Undertaken to Prepare a Will
Want more information?
‍Are you interested in a consultation with Peter R. Welsh?
Contact me at Peter@SmartWills.ca
‍By telephone 416-526-3121
Register for our blog to get valuable tips and up-to-date alerts.

This material is for general information and educational purposes only. Information is based on data gathered from what we believe are reliable sources. It is not guaranteed as to accuracy, does not purport to be complete and is not intended to be used as a primary basis for investment decisions.