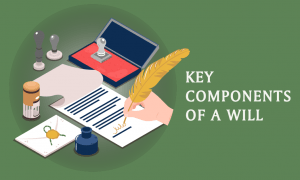 What Are The Key Components Of A Will?
Simple Wills are most often used when all that is needed is direction on how to distribute simple assets from the estate to the beneficiaries.  As long as the nature of the assets is relatively uncomplicated, a simple Will is more than likely sufficient to do the job.  Like all Wills, a simple Will must be in writing and should be typed instead of handwritten. What Are the Key Components of a Will?:
The Testator's name, address, and marital status; and
Instructions as to which property goes to which beneficiaries;
The Executor for the Estate should also be named; as well as
A guardian for any minor children;
The Testator and the witnesses need to sign and date the Will.
The Testator's Details
It is important to identify the Testator's full name, address, marital status, to also identify in the Will or with attachments, vital information on financial accounts – pensions, insurance, RRSP, TFSA's, RIF's, etc.
An Executor Or Personal Representative Needs To Be Identified
A necessary component of every Will is the identification of a trusted individual to make sure the terms of your Will are followed.  The Executor is responsible for guiding your Estate through the Probate process and ensuring that your property is distributed to your beneficiaries, according to the Will. An Executor can either be a professional or a family member or a friend.
Deciding Which Property To Include In Your Will
The first step in deciding which specific property should be left to who is to make a list of everything you own.  The next step is to eliminate as much property or assets as possible that are not required to go through Probate in order to be passed on to your heirs.  For example, retirement accounts and life insurance policies, which have named beneficiaries, are not required to go through Probate before those beneficiaries can receive their share. Generally, the big-ticket item that requires Probate is your home. It will only have to be Probated if you are the sole owner. If you own your home in joint tenancy, then the home passes to your partner without probate.
Once you have a good idea about what's included in your Estate you can make specific bequests in your Will. The more specific you make the terms of your Will, the more straightforward and streamlined the probate process will be for your family.
This allocation of items can include artwork, jewellery, club memberships, and even items like Aeroplan points.
If You Have Children Deciding On Guardianship
Much like an Executor for your Will, if you have children, it is important to decide who might apply for their guardianship.  As well, in your Will, you can define how the children and guardian will be compensated and financially taken care of.
What Happens If You And Your Family All Pass?
People don't often think of this when we are preparing their briefing documents, but it is a question and often this is the place people begin to explore charitable giving and extended family.
Boiler Plate!
Wills are generally crafted with sections that take into account things like:
Trustee Power
Ensure that estate trustees have the authority that they need to properly administer an estate without the necessity of seeking the direction of the Court
Provide for any requested restrictions upon trustee authority
Payment of Debts
Advise clients how the payment of liabilities may impact the administration of their estate, and address the order in which gifts will abate
If applicable, include clauses specifying how tax liabilities tied to specific assets ought will be paid
Interpretations
Not frequently but relevant can be the issue of who is included as potential beneficiaries such as children adopted or not, long lost relatives, stepbrother or sisters, and of course the potential for a surprise illegitimate child
Intentions about former or potentially, to-be become former spouses of our children and their claim to share in the spoils
And possibly, more importantly, the matter of a child who dies leaving children – do those grandchildren share in your Estate instead of your own child?
Should A Will Be Notarized Or Witnessed?
Notarizing a Will is not necessary as long as your Will has been properly constructed and witnessed; the Court will view it as a legally binding document. However, you may still want to include a self-proving affidavit and get your Will notarized since it can help the Probate process move faster.
The preparation of information to draft your Will can be a comprehensive process.  The complexity comes with having you organize not just the Will contents, but all the supporting information.  An ideal scenario is when you begin to pull out all your files and begin to organize key information as to contacts – financial planners, lawyer, accountants, bookkeeper, etc., key accounts for banking and investments, passwords and accounts for home services and internet accounts.  All of this information is not in your Will but helps those that are supporting you when having to manage your Estate.
In fact, with Smartwills, we have created a binder for your use to store and update all important information as your circumstances change – greatly alleviating your Executor, spouse, and beneficiaries from the need to guess where things are, what passwords are applicable, and how to get information extremely important but possibly only known by you.
Read more about digital Wills and virtual witnessing
Ministry of the Attorney General Information on Estates, Wills and Trusts
https://www.attorneygeneral.jus.gov.on.ca/english/justice-ont/estate_planning.php
Want more information?
‍Are you interested in a consultation with Peter R. Welsh?
Contact me at Peter@SmartWills.ca
‍By telephone 416-526-3121
Register for our blog to get valuable tips and up-to-date alerts.

This material is for general information and educational purposes only. Information is based on data gathered from what we believe are reliable sources. It is not guaranteed as to accuracy, does not purport to be complete and is not intended to be used as a primary basis for investment decisions.