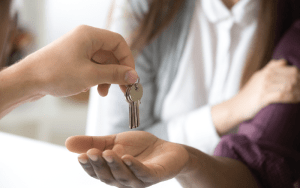 The Difference Between Tenants in Common and Joint Tenancy on Estates in Ontario?
In Ontario, there are two ways to co-own a home with another person. You can either be considered tenants in common or joint tenants. In the latter case, you will have what's known as the right of survivorship. This means you get full ownership of the property when the co-owner passes away. It also means that you do not have to pay Probate fees on the property. However, if you are tenants in common things can be a bit more complicated without adequate planning and a formal Will.
Losing someone you're close to can be a very painful experience. Unfortunately, dealing with the logistics such as the funeral and unwinding of an Estate can make things even more difficult. This may be especially true when you're taking possession of a home that was owned (in whole or in part) by the deceased. Those who find themselves in this situation are often unsure about the process—and whether it's necessary to change the name on the property's title.
If you are a tenant in common, then things get a bit more complicated usually requiring legal assistance. The deceased's interest in the property isn't necessarily passed along to you. Instead, it will go to the beneficiaries in the Will—and you may have to work with them to come to an agreement about what to do. When a decision can't be reached, it usually means selling the house for fair market value—with each party receiving their share of the profits. Timing can cause extreme pressure in this situation as we all know the value of a home in the GTA is quite high and the remaining party may feel like they have nowhere to go. If children are involved then it's even more challenging as one tries to keep life as normal as possible with respect to schools, friendships, and family.
If you're not sure which of the scenarios above applies to you, you'll need to check your Title Register Document that was received with the purchase of your home. If you can't find this a lawyer will have to look it up and there is a small fee. When there are other beneficiaries involved, a lawyer will be needed to help you understand your options.
HOW PROBATE MAY AFFECT IT
Probate is fundamental to the splitting of assets, including real estate. If there's any question as to what will happen to property owned or co-owned by the deceased, it's important to understand how this process works.
Essentially, when an Ontarian passes away, their last Will and Testament guides what will happen next. This crucial document will name someone, known as an Executor, to distribute the Estate to its beneficiaries. Included in these assets is their property. The Executor is often a family member but can also be a financial planner or lawyer when a family member is not available.  On our website, there is a link outlining all of the Executor's responsibilities.  https://smartwills.ca/the-executors-duties/
Before any real estate (or other assets for example bank accounts, artwork, coin collections etc.) can begin to change hands, the Executors' authority, in most cases, must be affirmed through the courts. This process is known as Probate, and it typically takes about 3 months if not more. The value of the assets will be assigned a fee of roughly 1.5% of the total value of the Estate.  Pre-planning with a lawyer can help in reducing these fees as part of the Will planning process.  If done correctly it can even be zero.
CHANGING THE NAME ON TITLE
In some cases, taking full ownership of a deceased person's property is straightforward. In Ontario, for example, if you and your deceased live-in partner were joint tenants, you're entitled to the home after they pass away.
In these situations, you'll still need to change the name on the title. Your lawyer can do that for you, and there is a small fee and government charges involved.
There are few things as difficult as losing a loved one. When you're concerned about the logistics of your living situation, it can make matters even more challenging. By working with a trusted legal professional, you can ensure that all of your i's are dotted, and your t's are crossed. This also helps in avoiding difficult family dynamics.
Read about Having Children Live in the Family Home
Want more information?
‍Are you interested in a consultation with Peter R. Welsh?
Contact me at Peter@SmartWills.ca
‍By telephone 416-526-3121
Register for our blog to get valuable tips and up-to-date alerts.

This material is for general information and educational purposes only. Information is based on data gathered from what we believe are reliable sources. It is not guaranteed as to accuracy, does not purport to be complete and is not intended to be used as a primary basis for investment decisions.