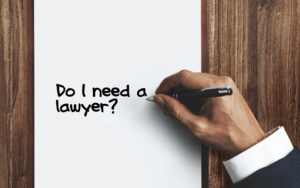 Planning Your Estate Do You Need a Lawyer?

While you don't need a lawyer to make a Will in Ontario, there are many individuals who may benefit from legal advice. If you have more than a bank account and a car or want to include specific instructions in your Will, a lawyer-drafted Will might be a better option for you.
It is important to say that Estate Plans are not just Wills and they are not cookie-cutter. Everyone has different issues that need to be put to paper and lawyers experienced in Estate Planning know the ins and outs. There are many issues that impact the planning. It can be issues such as:
A divorce
A remarriage
A blended family
A disabled child
An aging spouse that is not as conversant as they once were
Varying amounts of Estate funding for your children as you might have already given money to one of your children while you plan to provide the balance later in your life
The selling or division of a family cottage or southern warm climate property
Defining who should be a guardian for your children.
This list goes on as do the custom clauses and as counsel often provide. At Smartwills we like to remind you to make sure you have beneficiaries identified on financial products like RRSP, TFSAs and insurance products.  It is also very important to have contingent beneficiaries identified as these products do not require Probate fees and it is essential to keep the funds flowing to those you want to have it without tax.
We also know that it may look easy to fill in forms on a website defining who gets what however, our experience with draft forms seems to slow people down as they realize the need for clear objectives and then information to fill in a Will brief (insert sample form).  If the exercise were easy, we would all have our Estate Planning completed.  Like most things in life, we do need an expert to help us cut through the clutter and make things a bit easier.  It is important to remember life does throw the occasional curve ball and having a team behind you can make a big difference in your Estate Planning exercise.
Feel free to use our Basic Info Form
Want more information?
‍Are you interested in a consultation with Peter R. Welsh?
Contact me at Peter@SmartWills.ca
‍By telephone 416-526-3121
Register for our blog to get valuable tips and up-to-date alerts.

This material is for general information and educational purposes only. Information is based on data gathered from what we believe are reliable sources. It is not guaranteed as to accuracy, does not purport to be complete and is not intended to be used as a primary basis for investment decisions.