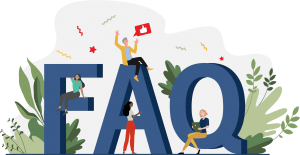 Frequently Asked Questions About Wills
Do we need a will?
Whether you are married, single, have minor children or own even a nominal amount of personal assets or property, you should have a Will. In fact, every eligible adult should have a Will or other means to control the disposition of his or her assets.
At what age should a will be made?
Anyone of legal age (18 years old in most provinces) and a sound mind can make a Will. If you have property that you wish to distribute at the time of your death, you should have a Will. When you make out your Will, you'll need to designate beneficiaries and an executor. It is also important to consider once you start working. You may not own a home but you may have a benefits program at your place of employment which covers you with insurance.  This supports the idea of all adults requiring a Will even if they think they do not own very much.  It is also a good habit to get into!
When should a will be reviewed?
How Often Should You Review Your Will? A good rule of thumb is to review important legal documents every three to five years. A Will review is also recommended in the following scenarios: Upon the birth or adoption of a child, grandchild or other family members. Some of the reasons we see at our office include:
The brother or sister that agreed to care for your children gets divorced, married and or moves out of the area;
You take shares in a company or start a business and realize it is wise to have a Secondary Will to help shelter assets from Probate Tax;
Your children no longer require a Guardian as they are now of age, however, you may choose to alter your distribution of assets based upon needs;
You have a family member with special needs and these have evolved over the years;
You have sold your business and are now enjoying retirement;
Your Executor may have passed.
Here are some helpful things to keep in mind when writing a will.
Do seek out advice from a qualified attorney with experience in Estate Planning.
Do find a credible person to act as a witness.
Don't rely solely on a joint Will between you and your spouse.
Don't leave your pets out of your Will.
Wills Don't Expire
There's no expiration date on a Will. If a Will was validly executed 40 years ago, it's still valid. But it is unlikely to have improved with age. So unlike good wine Wills do require updating to reflect each stage of life.
Read more about Why People Avoid Making a Will
Want more information?
‍Are you interested in a consultation with Peter R. Welsh?
Contact me at Peter@SmartWills.ca
‍By telephone 416-526-3121
Register for our blog to get valuable tips and up-to-date alerts.

This material is for general information and educational purposes only. Information is based on data gathered from what we believe are reliable sources. It is not guaranteed as to accuracy, does not purport to be complete and is not intended to be used as a primary basis for investment decisions.