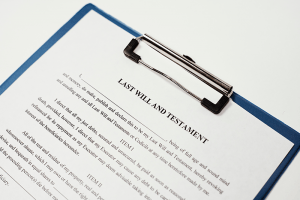 Five Reasons You Need Help With Your Will
Errors in drafting a Will can invalidate the best intentions. Here's a list of warning signs and precautions to take when writing yours…
Death. It's the subject everyone dreads discussing, thinking about, and planning for, but it seems few Canadians do.
Only 55 percent have a Will, according to a recent poll of more than 1,500 people by the Canadian Imperial Bank of Commerce, and only 18 percent of those were between 18 and 34.
Yet a Will is something young and old both need to consider, "Even if you only have $4 to your name and no children or pets, you still want to have an Executor when you die, or the Courts will appoint one. And that's a huge headache for your family and it costs money. Below are five reasons you may need help with your will.
Many people think that they can utilize online software and execute a Will. However, there are five subject areas you need to understand about Wills and their preparation otherwise they can be invalid.
Validity – A Will that does not comply with the laws of the relevant province may be ruled invalid. That amounts to the same thing as dying without a Will. The tables of intestacy which say which relatives get what fractions will then govern. A public trustee could wind up handling the financial fruits of your life's work. Each province has specific rules about the signing of a Will, who can be a witness and how they document what they witness.
Taxes – Taxes on accrued but unrealized capital gains and Probate costs can make a large dent in an Estate. A lawyer can draft a Will to reduce taxes by the distribution of assets prior to death or establishment of testamentary trusts in the Will. Among the tactics to reduce Probate costs, which average 1.5% across Canada, are joint ownership or transfer of assets out of the Testator's name before death.
Incapacity – Incapacity before death and appointment of persons to act as Attorney for both financial and medical decisions before death can not be anticipated by a Will which is only applicable after death. The latter power is contained within the document often called Power of Attorney for Property and Power of Attorney for Personal Care which instructs the person acting under a Power of Attorney whether to authorize your medical care but also how to handle your financial needs before death.
Beneficiaries – Potential beneficiaries, such as children, can be prevented from receiving assets before they are ready and able to use or guard them. Most of the time, a binding Will or an instructive but non-binding memorandum of wishes can tell the Executor what to do with assets such as art or heirlooms. The Will can time the distribution of assets for minors to the times that they are, say, 25, 30 and 35 with a portion distributed at each birthdate. The Will can also ensure that each person named gets property (i.e., belongings), especially memorabilia, as intended.
Executors – Discussions can be held to find a suitable Executor — frequently someone younger than the Testator, able to deal with beneficiaries, and who understands the importance of the role of Executor. The Executor can appoint accountants and lawyers to aid in the job, but he or she has to be able to control the process of gathering assets, paying bills and distributing the Estate to heirs. Executor fees are set at 5% of the total assets and Executors are financially responsible for managing the distribution of the Estate as stipulated by the Will. This role is a critical function and can be audited to confirm the Estate has been responsibly managed.
Dying in Canada without a Will Creates Unique Complications and Added Expenses for Survivors, Read more here
Want more information?
‍Are you interested in a consultation with Peter R. Welsh?
Contact me at Peter@SmartWills.ca
‍By telephone 416-526-3121
Register for our blog to get valuable tips and up-to-date alerts.

This material is for general information and educational purposes only. Information is based on data gathered from what we believe are reliable sources. It is not guaranteed as to accuracy, does not purport to be complete and is not intended to be used as a primary basis for investment decisions.