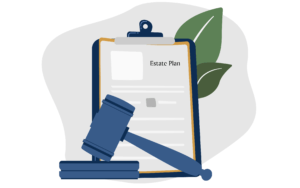 Is a Will the Same as an Estate Plan?
A Will and an Estate Plan are two separate but related legal documents that help individuals determine how their assets and affairs will be managed and distributed upon their death.
A Will, also known as a Last Will and Testament, is a Will which is a legal document that outlines a person's wishes regarding the distribution of their assets (such as property, money, and possessions) after they pass away. It allows individuals to specify how they want their assets to be distributed among their Beneficiaries, appoint an Executor to handle the administration of their Estate, and potentially designate guardians for minor children.
A Will typically needs to go through the Probate Process, the legal process of validating the Will and carrying out its instructions. The Probate Process is also necessary for the collection of Estate Taxes and is a crucial supporting document when you begin the process of working with banks and investment institutions to access funds.
An Estate Plan, on the other hand, is a broader set of legal documents and strategies that go beyond just a Will. It encompasses various elements such as Wills, Trusts, Powers of Attorney, and healthcare directives to ensure that a person's financial and healthcare matters are appropriately addressed during their lifetime and after their death.
Estate planning allows individuals to minimize taxes, protect assets, establish Trusts for Beneficiaries, plan for incapacity, and provide for charitable giving, among other things. Estate plans are often tailored to an individual's specific circumstances and goals and can involve the assistance of professionals such as lawyers and financial advisors.
Having a Will and Estate plan in place can provide peace of mind by ensuring that your wishes are followed and that your loved ones are taken care of after your passing. It is generally recommended to consult with an experienced lawyer and financial advisor who specialize in Estate Planning to help you create a comprehensive plan that aligns with your needs and goals.
Check out our website's Learning Center to learn more… https://smartwills.ca/financial-planner-perspective-on-estate-planning
Want more information?
‍Are you interested in a consultation with Peter R. Welsh?
Contact me at Peter@SmartWills.ca
‍By telephone 416-526-3121
Register for our blog to get valuable tips and up-to-date alerts.

This material is for general information and educational purposes only. Information is based on data gathered from what we believe are reliable sources. It is not guaranteed as to accuracy, does not purport to be complete and is not intended to be used as a primary basis for investment decisions.