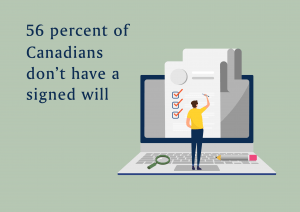 What Are Some Of The Common Reasons For Not Having a Will?
Canada is in the midst of a massive intergenerational transfer of wealth with the owners of trillions of dollars in assets thinking they'll pass all that wealth on to their children. Approximately $1 trillion in personal wealth will be transferred from one generation to the next in Canada between 2016 and 2026, according to estimates, with roughly 70% of that in the form of financial assets. Despite this historic handoff from one generation to the next, the Investment Planning Counsel reveals that few Canadians have discussed their investment plans with the beneficiaries. Perhaps even more concerning, research from LawPRO has found that 56 percent of Canadians don't have a signed Will. Let's explore some common reasons for not having a will…
1. The Will Writing System Is Complicated.
Everybody needs a Will; young or old, single or married, affluent, or going through some tough times, you need a Last Will and Testament. Wills not only describe the distribution of your assets and possessions, but they allow you to make key appointments, including an Executor (who takes care of everything on your behalf) and guardians for young children.
We know that everybody needs a Will, but even allowing for statistical variation, our research shows that the vast majority of Canadians (56%) don't have one in place. This suggests that the system for creating and updating Wills isn't working for most people. Or perhaps people just don't realize the impact of not having one.  Much like when we all buy a security system when our neighbour has a robbery.
2. I Have A Will, It Was Created 10 Years Ago?
When we asked this question in our research, it was to try and understand how many people had Wills that no longer made sense. For example, a Will that was prepared 3-5 years ago can often be out of date. Your children grow up, your Executor has moved out of the country, you have separated or divorced, you may have retired. The list is endless, reflecting the ebb and flow of life changes.
3. The Perfect Time For Preparing A Will!
So why do so many people not have a Will if they know that they need one?
The fact is, that there is never a time when your circumstances have stopped changing. You become one of the 56% of Canadians without a Will. Having a Will is not a once-in-a-lifetime process.  It is much like doing your taxes, or updating an insurance policy, in this complex world an annual review and a 3–5-year update is usually recommended.
4. Being Without A Will Has Nothing To Do With Affordability
It stands to reason that a do-it-yourself Will service may not work well for high-income individuals and that these people really need professional advice to prepare a Will. According to research, about 15 percent of people earning over $150k have prepared a Will. The only conclusion to draw is that cost is not the main barrier, but rather the process of writing a Will is often avoided for the many reasons we cited in our introductory note.
5. People Don't Understand The Impact Of Dying Without A Will.
What many of us do not realize is that writing a Will is never about you. It's about taking care of your loved ones – the people that you care for through your life. Not preparing a Will is setting your family up for heartache and emotional turmoil. It all too often leads to acrimonious fallouts among family members who seemed to get along just fine until they had to work together to administer an Estate without a Will.
6. Not Having A Will Is A Missed Opportunity
There is more to a Will than just identifying where your assets will be allocated. You can do wonderful things in a Will, for example:
Leave a cherished item to somebody who will appreciate it
Make sure your digital accounts are all taken care of appropriately
Pass on your hockey or basketball tickets
Remembering a good friend and their lifetime of support
Leave funds to a charity
Set up an event in your memory
Create a scholarship fund
Make sure that your pets are taken care of.
The list of ideas is endless. Of course, without a Will, the courts will just split up your assets according to the Provincial laws of intestate succession. It will almost certainly not reflect how you would have chosen to distribute your assets. The bigger issue that we see is precious funds being used to pay legal, tax, and process fees to undo a mess that could have been used to reflect how you would have wanted your life reflected.
7. Most People Don't Understand How Easy It Is To Prepare A Will.
You have to make some important decisions in your Will, and these can take time. We often see the gestation of a Will taking months. Appointing your Executor and the guardians for your children are not decisions to be taken lightly and you may need to consult with family and loved ones. But once you have a solid idea of the contents of your Will, the process for writing a Will can be quite simple. It takes much less time than filing your taxes or setting up a new email account!
Explore some Life Triggers and Their Role in Estate Planning
Want more information?
‍Are you interested in a consultation with Peter R. Welsh?
Contact me at Peter@SmartWills.ca
‍By telephone 416-526-3121
Register for our blog to get valuable tips and up-to-date alerts.

This material is for general information and educational purposes only. Information is based on data gathered from what we believe are reliable sources. It is not guaranteed as to accuracy, does not purport to be complete and is not intended to be used as a primary basis for investment decisions.